Sale!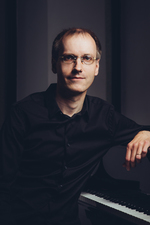 Ralf Taal "Magic Of Sound" (F. Chopin)
25.00€
Ralf Taal,
Magic of Sound [CD],
Estonian Record Productions, 2014
helilooja: Fryderyk Chopin
CHOPIN, Frédéric François (1810-1849)
1.1 – 24 Preludes, Op. 2839:05
2.25 – Ballade No 4 in F minor, Op. 5211:20
3.26 – Etude in A minor, Op. 10, No. 21:37
4.27 – Etude in C-sharp minor, Op. 10, No. 42:10
5.28 – Etude in G-flat major, Op. 10, No. 51:47
6.29 – Polonaise in A-flat major, Op. 536:28
7.30 – Scherzo No 2 in B-flat minor, Op. 3110:38
Description
RALF TAAL
has graduated from Tallinn Music High School and the Estonian Academy of Music and Theatre (EAMT). In 1993, he won the 1st Prize at the young pianists' competition dedicated to the 150th anniversary of E. Grieg and in 1994 R. Taal won the National Pianists' Competition and Young Interprets' Competition-Festival "Con Brio". He was a scholar of the Estonian Concert for the 1994/95 concert season. In 1995, he was awarded with a special prize at the Schubert International Pianists' Competition in Dortmund for being the youngest finalist. R. Taal has performed as a soloist with almost all Estonian orchestras and he has given numerous solo concerts. He has cooperated with such outstanding conductors as Eri Klas, Paavo Järvi, Olari Elts, Arvo Volmer, Tõnu Kaljuste, Anu Tali etc. His solo programs mostly include music from Schubert, Beethoven and Chopin. In addition to being active as a soloist R. Taal is also a valued ensemble partner for several vocal and instrumental soloists, including singers Mati Palm, Ain Anger, Pille Lill, Helen Lokuta, Monika-Evelin Liiv and instrumentalists Indrek Vau, Oksana Sinkova, Toomas Vavilov, Andrus Haav etc. R. Taal is working as a pedagogue at the EAMT and at the Georg Ots Tallinn Music School and he was a concert master at the Estonian National Opera (1998-2014).  In 2011, he was rewarded with the annual award of the Estonian Culture Endowment's Music (Sound Design) Fund. In 2014, he released his solo album with Chopin's piano music "Magic of Sound" (Estonian Record Productions).