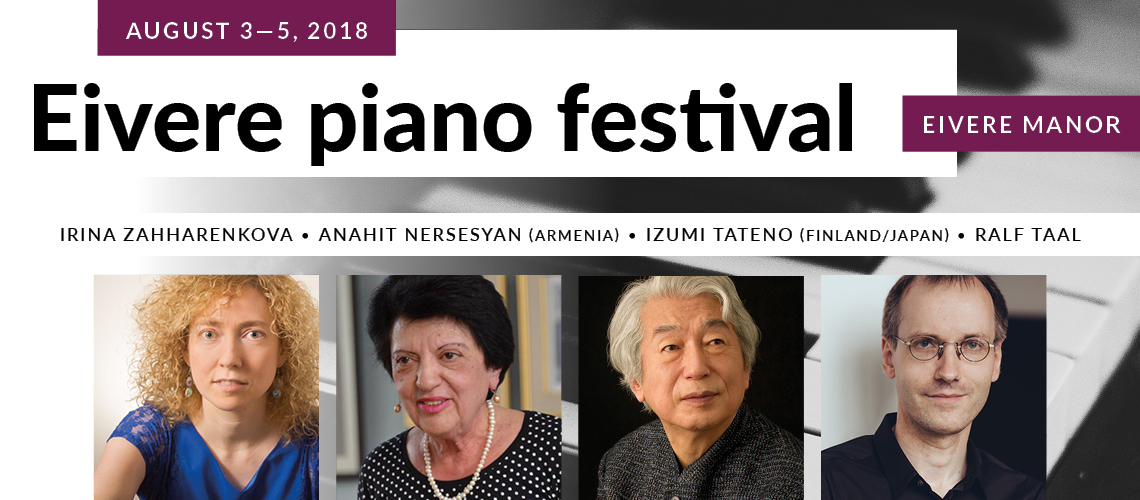 In 2013 cooperating with the Eivere Manor, PLMF launched the Eivere Piano Festival dedicated solely to piano music. On the amazing Boesendorfer concert piano at the beautiful and historic Eivere Manor have been performing outstanding pianists from Japan – Mr. Izumi Tateno, Ms. Yuko Yoshioka, Ms. Ayumi Hirahara, Ms. Haruyo Kubo,  Ms. Emiko Mizuki, Ms. Shihoko Iino, Ms. Sae lida and Mr. Tetsuro Hagiu, in addition to Estonia's well-known soloists, such as Irina Zahharenkova, Age Juurikas, Marko Martin and young talents Mihkel Poll, Kristi Kapten and Johan Randvere. The primary aim of the festival is to bring distinguished pianists of the world closer to the people of Järva County and develop cultural relations between Estonia and Japan.
PROGRAMME 3-5.08 2018:
3.08 at 19.00
Eivere
Irina Zahharenkova (piano)
4.08 at 19.00
Eivere
Anahit Nersesyan (piano, Armenia) 
5.08 at 12.00
Paide Town Hall
Final concert of Summer Academy
5.08 at 15.00
Eivere
GALA CONCERT
Irina Zahharenkova, Anahit Nersesyan (Armenia),
Izumi Tateno (Finland/Japan), Ralf Taal 
Upcoming Events
No matching events listed under Festivals. Please try viewing the full calendar for a complete list of events.
Events List Navigation