Andreas Lend (cello) and Allan Jakobi (accordion) began their collaboration in 2014 with a wish to give classical repertoire a new sound. The timbres of accordion and cello blend together extremely well — the sound is at the same time orchestral and cozy. The Duo plays music from Baroque to Contemporary from composers J.S.Bach, Marin Marais, Igor Stravinski, Manuel de Falla, Ernst Bloch, Arvo Pärt, David Popper, Heitor Villa-Lobos, Enrique Granados, Astor Piazzolla, Vittorio Monti, Fritz Kreisler etc. They allure the audience with their deep dedication, stage spark and vistuosic interpretations.
Biography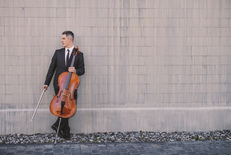 ANDREAS LEND was born into a family of musicians and is one of Estonias most talented cellists. He has studied in Helsinki at the Sibelius Academy (Prof. Hannu Kiiski and Heikki Pekkarinen) and received his B.A. and M.A. degrees from the Estonian Academy of Music and Theatre (2008, 2010; Prof. Peeter Paemurru). Andreas has won the 1st prize and Grad Prix at the International Contest-Festival «Renaissance» in Armenia (2013), 1st prize at the ESTA Estonian National Competition of Young Violinist and Cellists (2004) and 3rd prize at the Augusts Dombrovskis International Competition in Riga, Latvia (2002). He was laureate of the Estonian Young Performers Competition Con Brio (2008) and the International Cello Competition in Liezen, Austria (2000). In addition Andreas has been awarded the "International Holland Music Session" summer academy scholarship (2009 and 2010) and the PLMF Marje and Kuldar Sink award «Young Musician 2011». Andreas has participated in numerous master classes (F. Helmerson, D. Geringas, M. Ostertag, N. Ullner, M. Ylonen, M. de Oliveira Pinto, A. Ivashkin, J. Goritzki ect). In 2007 Andreas Lend was chosen to take part of the European Union Youth Orchestra (chief conductor Vladimir Ashkenazy) and from 2004-2014 was a member of the Estonian National Symphony Orchestra and the C-JAM cello quartet. Today he is a freelance cellist and member of the Prezioso String Quartet. Andreas has performed as soloist and chamber musician in many different countries (Russia, Latvia, Lithuania, Finland, Sweden, Denmark, Germany, Czech Republic, Austria, Belgium, the Netherlands, Hungary, Bulgaria, Romania, Italy and England), during the past years among others at the Tallinn Chamber Music Festival, Järvi Summer Festival, Kuopio Historical Keyboards Festival (Finland) and the Festival de Valle d'Itria (Italy). Last season he had concerts in Italy, Sweden, Wales and Turkey among others with the string orchestra Camerata Nordica and Sinfonia Cymru.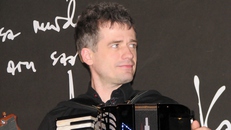 ALLAN JAKOBI has graduated from both Tallinn Music High School (1987, class of J.Kirs) and the Georg Ots Tallinn Music School (1992, class of J.Sommer) as an accordionist. He has also received training as an orchestra conductor at the Tallinn Pedagogical University (1996-1997, class of R.Brauer) and has taken part in several master classes for accordionists (Matti Rantanen, Mogens Ellegård etc.). Allan is active as a freelance accordionist in the genres of pop music, jazz improvisation and classical music. He has performed at festivals in Kuhmo, Bornholm, Moscow, Vilnius, Limbaži and Kiel and also at «Jazzkaar» and «Jazz Fiesta». Since 1999 he has cooperated with Neeme Punder, Lembit Orgse, Jaan Arder and Ants Nuut (the programme «Living Classics») and since 2000 with Tiit Peterson (the programme «Tangoballet»). For years he has been a member of folk ensembles (Peiarid, Savijalakesed), with whom he has performed in many European countries and in the U.S. Allan has also performed both on stages and in recording studios together with many distinguished Estonian soloists and ensembles (Gerli Padar, Ivo Linna, Rein Rannap, Uno Loop, Tarmo Pihlap, Erkki Otsman, Mart Sander, Henry Laks, Erich Krieger, Evelin Samuel, Boris Lehtlaan, ensembles Hitty Bitty, Apelsin, Slobodan River, Akordionitrio, Mr. Lawrence, Trio Naturale, Pärnu City Orchestra, orchestras of the Estonian National Opera and of Theatre Vanemuine). Since 2004 Allan is the manager of Akordion Centrum OÜ which imports Italian accordions to the Baltic states.

Duo Andreas Lend & Allan Jakobi