The President
In 2005 the President of Estonia Mr Arnold Rüütel honoured the PLMF by accepting patronage of the following series of concerts «Music of the Soul» and «Master School».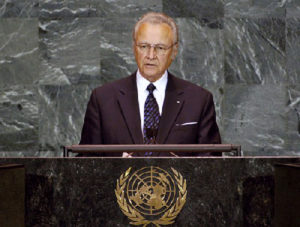 The Earl of Carlisle
Patron. The Baltic Council of Great Britain
Patron: PLMF
It is with real sense of pleasure that I give my wholehearted support to the Pille Lill Music Fund. Over the past decade since Estonia and her neighbours regained their Independence, enthusiastic audiences around the world, not least in Britain, have been treated to the 'Sound of Estonian Music'. This was not possible for over half a century.
As a member of my nation's Parliament, I was deeply privileged to be invited become Patron of the Baltic Council of Great Britain. The Council dedicates itself to fostering the interests of the three nations.
Estonians, who escaped deportation and death after Second World War and settled in Britain, have made an incalculable contribution to our nation's well-being. It is not before time that we the British in Estonia, followed their magnificent example. I feel both proud and humble to be invited to take part in this project. We have no need to offer Estonian musicians luck. They have skill.
We salute and support them.
Her Excellency Mrs Sarah Squire
The British Ambassador to the Republic of Estonia (2000-2003)
Vice-Patron: PLMF
I am delighted to be associated with this appeal which bears the name of a fine young Estonian singer — Pille Lill — who is a graduate of one of the leading colleges of music in my country, the Guildhall School of Music and Drama. The new Fund will open the way for more young Estonian performers to benefit from the best musical teaching available internationally. It will build on Estonian's proud tradition of music and opera and will help project Estonian talent onto the world stage.
Mr Jaakko Blomberg
The Finnish Ambassador to the Republic of Estonia (2001-2005)
Vice-Patron: PLMF
I have always believed that talent must be shared, so it was for me a great satisfaction to be given the opportunity of contributing somehow to the realisation of the potential of young Estonian musicians, who surely will soon be performing in different concert-hall around the world together with other talented Europeans.
Mr Edgars Skuja
The Latvian ambassador to the Republic of Estonia
Vice-Patron: PLMF
Music is a very democratic and polyglot art, it crosses the language barrier, it enables communication in a language understood by anybody — the language of music. However, it is evident that musicians of different countries have their own unique style and character, their elusive nuances or tints of music. In my opinion, such a Music Foundation would open up good opportunities to get acquainted with the music of more or less distant countries and we all will become richer.
Mr Per Kristian Pedersen
The Norwegian Ambassador to the Republic of Estonia
Vice-Patron: PLMF
In both Norway and Estonia our cultural heritage shaped the national identity, which gave us independence. Today culture plays a core role in foreign policy.
It is therefore an honours and pleasure for me to lend my name to this Foundation, whose objective is to assist young Estonian musicians and opera singers and bring their talents in contact with other countries.
Mr Margus Allikmaa
The Minister of Culture to the Republic of Estonia
On every musician's creative journey, those who aim to grow, to be competitive and to reach the top, always need support. Jaan Tõnisson, an Estonian politician and writer, wrote one hundred years ago, «It is important to see that whenever a talented person is struggling against all odds, the community should not look on in cold indifference; because when real talent makes its appearance, it enriches the life of the whole people and not merely of an individual. Were this supreme principle to be forgotten, it would be a loss for the entire nation, even for the whole of humankind.»
It is the priority of the State to see that this should not happen. Yet it is a joy to see that our people are not indifferent and not only understand that Estonian music represents a visiting card from our country to the world, but also that these treasures are to be conserved and bequeathed to humanity.
I wish the Pille Lill Music Fund every success in their praiseworthy undertaking.
Mr Peep Lassmann
The Rector of the Estonian Academy of Music
The Music Academy of Estonia believes that young musicians should obtain many opportunities to receive additional guidance outside their formal training. Therefore I am particularly happy to offer my best wishes on the birth of a new foundation — the Pille Lill Music Fund. May this bird fly!